HCCIis a commercial and industrial General Contractor. We provide our services both through the design-bid-build model and the design-build model for new construction, renovation, and addition of retail, office, religious, hospitality, and industrial facilities, as well as tenant build-out projects.
All projects include traditional services in subcontractor bid management, estimating, and project management. Whether negotiating a project with you, or bidding on your project via the traditional competitive bid process, our experienced team of estimators provides accurate, competitive pricing. When given the opportunity, we provide assistance in the conceptual design phase of a project for cost planning and budget development purposes.
Negotiated and design-build projects allow our clients to benefit from relationships that we have cultivated with local architects, engineers, and subcontractors. These types of projects generally allow more room for us to contribute our creativity in helping Project Owners balance their needs and wants with their budget – an area in which we excel.
When choosing a General Contractor, it is nearly impossible to make an apples-to-apples comparison. You certainly need to choose a contractor that is capable of handling your project, but you should also consider the contractor's fit with your style of doing business and your desired level of detail and attention to your project. At HCCI, all personnel included on your project, from Accounting, to Project Management, to Field Supervision handle your project in a personal and professional manner, working closely with you to achieve your goals. There is no set structure for communication, meetings, and reports. We have learned that every Project Owner has different preferences for his/her project; therefore, we customize our approach to your project based on your individual needs. Our goal is to deliver exceptional quality in every aspect of the construction process so that we can earn your loyalty. We recognize that if it were not for our satisfied and loyal clients who have repeatedly come to us for their construction needs and referred us to their friends and associates, we would not be here today. We believe that our sixty-five years in the Middle Tennessee commercial construction market and strong customer base are true testaments to the quality of services we provide and how we provide them – with honesty, integrity, transparency, and respect.
Service Areas
Tennessee, Virgina, North Carolina, South Carolina, Kentucky, Alabama, Mississippi, Louisianna, Georgia, Florida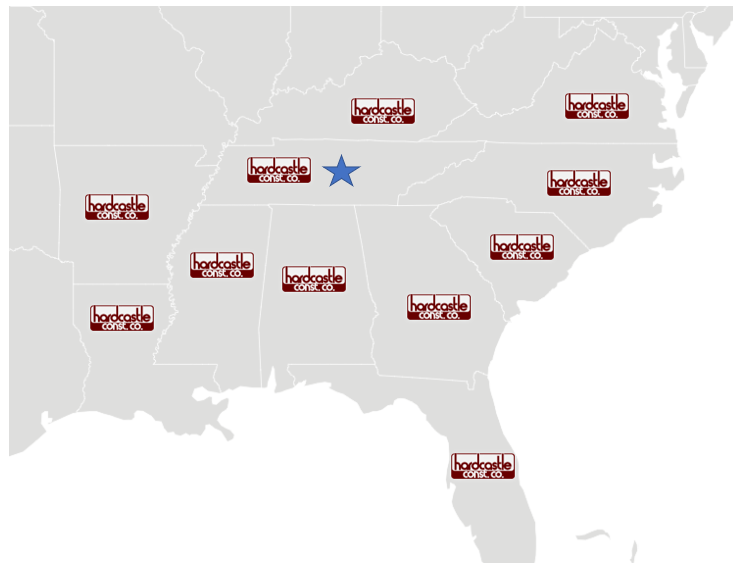 Service Portfolio
Restaurant Construction and Design Services
School construction management / educational facilities
Office building construction, management and design
Church building design and construction
Hotel Construction
Warehouse Construction / Efficiency Construction Designs
Retail stores building and commercial construction
Tenant build-outs.